Traditional craft, computer cutting, and advanced waterjet cutting technology enable us to fabricate both monolithic and laminated glass to almost any combination of shape and edge treatment, even the most intricate. We temper glass as small as 6″ x 6″ up to 60″ x 120″ with thickness of 1/8″ up to ¾".
We can create diamond-cut bevels, special contours and patterns. For example, we can cut large holes with narrow borders to accommodate sinks in countertops.
We offer you an almost limitless world of possibilities. Dependable Glass Works fabricates air traffic controller glass and CNC shape grinding to aircraft and military specifications. We can fabricate anything from custom glass doors, and wall partitions to laminated glass art exteriors and Safety Plus ® II hurricane resistant glass. Call us today!

See Textured Glass
Thickness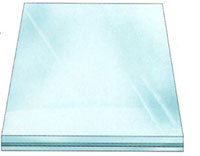 Laminated: 3/16″ to 13″
(please call for custom configurations)
Non-Laminated: 1/16″ to 1″
1/8″ window panes, door panes
3/16″ and 1/4″ table top protectors, doors
3/8″, 1/2″ and 3/4″ table tops, vanity tops
Note: Except for 1/8″, all can be beveled and polished
Mirrors: 1/8″, 3/16″ and 1/4″
Colors include peach, clear, black, blue grey, bronze & blue.
Edge Grooves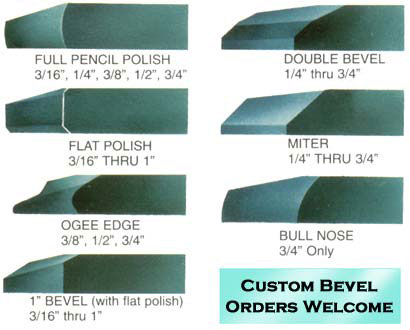 Shapes